Biography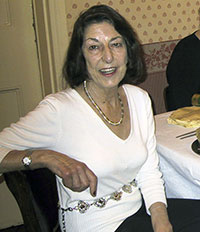 Note from Carl Wilson, son of Kate Edwards: My Mother Kate passed away in January 2011. She lives on through each word of her poetry, in which her thoughts and soul remain clearly and vibrantly alive. Just a few days before her passing, when she obviously knew more about her condition than anyone else did, she wrote her final poem, on the twelfth night of Christmas, a time that was always very spiritual for her. It was not discovered until several days after she had passed on. It can be seen here and in the Questions category.
I hope you enjoy her website and her work.
- I have been writing poetry as long as I can remember, but it was years before I dared to send it out into the marketplace. I still feel slightly nervous about doing this, as though a secret part of myself is being revealed.
I do believe William Wordsworth was right when he said "Poetry is emotion recollected in tranquillity," most of the poetry I write now has a resonance from the distant past. Sometimes a half-memory, a shade, an image from a time long gone is brought into being by random thoughts, a scent, a cast of light.
A few hours later a poem emerges. I work on it, and then wonder, after altering and agonising, whether the first version was not the best, after all. Sometimes lines drift into mind when cooking or doing necessary housework, or drying the dogs when they've been in the pond at the top of the garden. I try to keep pens and paper in every room, but it doesn't always work. I believe Thomas Hardy used to scribble on leaves when walking in the woods rather than lose his thoughts.
I grew up and went to school in Runcorn, Cheshire. A happy childhood, with school hols. often spent with an Aunt and Uncle who lived on the edge of a small village, or with family friends who were farmers. There were ponies to ride, which gave me an ongoing love of horses, and a great love of nature and the countryside.
I tried to make a career in the theatre, which didn't work, although appearing in many plays in a local drama group fulfilled these aspirations to some extent. I worked in a Bank, the offices of a chemical company, and later, the Department of Employment, didn't enjoy any of them, a square peg in a round hole, and often got into trouble for being 'subversive' or trying to change the system. Sometimes I 'broke out' and for a while I was a Lucy Clayton catwalk model, also fairly boring, but the social life was good. For a while, when the children were young and I needed to work, I packed crisps on the night shift at a local factory, after a few months becoming Personnel Officer, nights. That was interesting!
My husband is an architect, and we each have a son and daughter from a previous marriage, all four grown up now, but all returning home frequently. We also have two Labradors, a black and a chocolate. We live in a Victorian house, which we love, a large garden, in it's bedraggled 'winter' phase at present, but great clumps of snowdrops in the woodland walk and witch hazel and Jasmine nudiflorum blossoming.
I read widely, and enjoy visiting galleries, theatres, and dining out, also cooking for friends at home. Other interests have always been riding, swimming, dancing, and walking. Along the lane we have access to Runcorn Hill, dark cliffs and heathland, with wonderful views of the Mersey estuary. Delamere Forest is not far away, stretching over a large part of Cheshire. These places have inspired many of my poems.